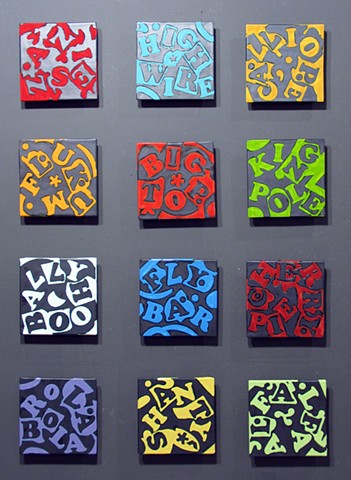 Circus Slang
ceramic, glaze, wood frame backer and wall cleats
Dimensions variable, shown 32" x 44" x 1"
Inspired by the lingo of world of the circus.
Original ceramic tile mural by Jason Messinger
Hand cast tiles with hand painted glazes. Ships with wall cleats and wood frame backers to project tiles 1" off wall. Work is modular - can be displayed in any configuration or sequence.
Click on Price Above to Purchase work through secure PayPal server. Shipping to Continental US Included.
Definitions:
Alfalfa - Paper money.
Ballyhoo - A spotlight cue meaning to sweep the light across the spectators in a figure-8 pattern.
Big Top - The main tent used for the performance.
Calliope - A musical instrument consisting of a series of steam whistles played like an organ.
Cherry Pie - Extra jobs done by circus personnel for extra pay.
Flukum - Strolling refreshment vendor's term for no-brand grape or orange drink sold in the stands.
Fly Bar - An aerialists' swing with a bar instead of a flat seat.
High Wire - A tightly-stretched wire far above the floor, on which a wire walker performs.
King Pole - The first pole of the tent to be raised. The main support pole or mast for the tent, sometimes one, two or four in number. Holds the peak of the tent.
Rola Bola - A board placed flat on top of a cylindrical roller. A performer balances on the board while performing various feats.
Shanty - The person who works the lights in the circus.
Zanies - Clowns.
Definitions source- "On The Midway", 2008, Wayne N. Keyser