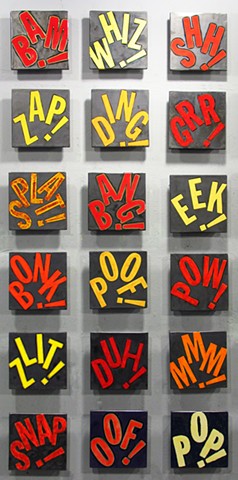 Onomatopoeia - 18 Tiles 8x8
ceramic, glazes, wood frame backer frames and wall cleats
Dimensions variable, shown 32" x 56" x 1"
Jason Messinger creates ceramic tile murals and sculptures of bright colors and wry content. His sculptures twist and turn with organic yearning and figurative sensibility, creating abstract interpretations of famous sideshow acts. His tile murals vibrate between sneaky humor and abstract beauty - commenting on the lexicons of the circus and the carnival. Utilizing the materiality of ceramic and richly colored glazes, Messinger's artwork is its own circus act.
Hand cast tiles with hand painted glazes. Ships with wall cleats and wood frame backers to project tiles 1" off wall. Work is modular - can be displayed in any configuration or sequence.
Click on Price Above to Purchase work through secure PayPal server. Shipping to Continental US Included.